Ce qu'en dit le site :
INITIATIC
CRÈME LISSANTE ENERGISANTE
Estompe les rides et les ridules, prévient leur apparition.
Nourrit, hydrate et protège.
Concentré d'énergie, cette crème, à la texture onctueuse, lisse les premières rides et prévient leur apparition en agissant au cœur des cellules.
Principaux actifs :
- Peptide biomimétique stimulant: obtenu par biotechnologie, ce peptide est la copie parfaite d'un composant des piles énergétiques cellulaires.
- Concentré de baies de Goji: appelé "fruit de la longévité" le goji est très riche en acides aminés, oligo-éléments et vitamine C qui lui confèrent des propriétés énergisantes et anti-oxydantes.
- Beurre de karité et huile de camélia: riches en acides gras essentiels, ces extraits sont reconnus pour apporter à la peau confort et souplesse.
Ce que j'en pense : découverte dans la Joliebox de janvier, j'ai totalement craqué pour cette crème. Pas parce que je m'inquiète des mes premières rides mais juste parce que cette crème à une odeur juste trop agréable et qu'elle laisse la peau vraiment toute douce et lissée. Je trouve que cela en fait une super base pour le maquillage.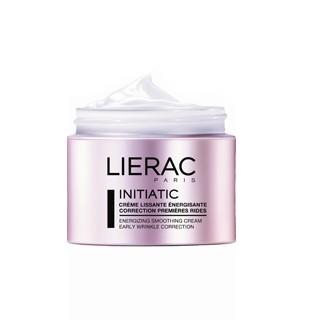 What the websites says:
Initiatic Cream
Cream for the 1st Signs of Aging
Developed to meet the needs of women aged 30 and over and formulated with Lierac's exclusive Bio-Botanical Complex, a synergy of a high-tech peptide and goji fruit extract, this rich cream effectively reduces and prevents the first signs of fine lines and wrinkles. The skin becomes smoother, optimally hydrated and radiant. This creamy and ultra-hydrating formula is ideal for normal to dry skin and instantly provides essential nutrients and protection.
What I think about it: it is just GREAT. I mean I discovered this in the January Joliebox and it's not like I bought it because I'm worried about lines on my face or anything. I'm only 25 and don't really have lines anyway BUT this cream smells so good ! And it leaves your face so smooth and soft...I just love it. I feels really good on my skin and it's a great makeup base.