Hello !
Aujourd'hui dans la rubrique tutorial du mercredi, je vous explique ma routine de démaquillage et soin de nuit.
Today in the wednesday tutorial I'm gonna be talking about my night beauty routine.
1. Je commence par la Super Huile Démaquillante Sephora dont je vous ai déjà parlé
ici
.
Je presse une fois sur la pompe et j'applique l'huile sur mon visage et mon cou. Je masse bien par petits mouvements circulaires mais doucement pour ne pas irriter ma peau, pendant peut-être une minute. Puis je rince à l'eau claire. Pour celles qui ont vraiment la peau sensible, je recommande de ne pas rincer à l'eau mais d'enlever l'huile avec un coton d'eau micellaire. Perso, j'utilise la Créaline de Bioderma, c'est vraiment la meilleure que j'ai testé, je trouve que les autres "collent" un peu... Ce sera beaucoup plus doux pour votre peau, car le calcaire contenu dans l'eau est assez agressif pour la peau en général. Et votre peau n'en sera pas plus grasse, promis.
I start with Sephora's Supreme Cleansing Oil, which I already talked about here.
I press once the pump and apply the oil on my face, massaging gently in a circular motion on the face and neck. Then I rinse it off with clear water. I recommend skipping water if you have sensitive skin and remove the oil with micellar water on a cotton pad (you can find some at Sephora for example, I know they have the one by Caudalie, otherwise if you have the chance to be in France buy the Crealine by Bioderma, it's the best!). It'll be much gentler for your skin and won't leave it oily, I promise.
2. Ensuite je passe un coton d'eau micellaire pour apaiser ma peau, annuler les effets du calcaire sur ma peau et être sure que ma peau soit bien propre.
Then I use a cotton pad with micellar water to soothe my skin and make sure the skin is clear.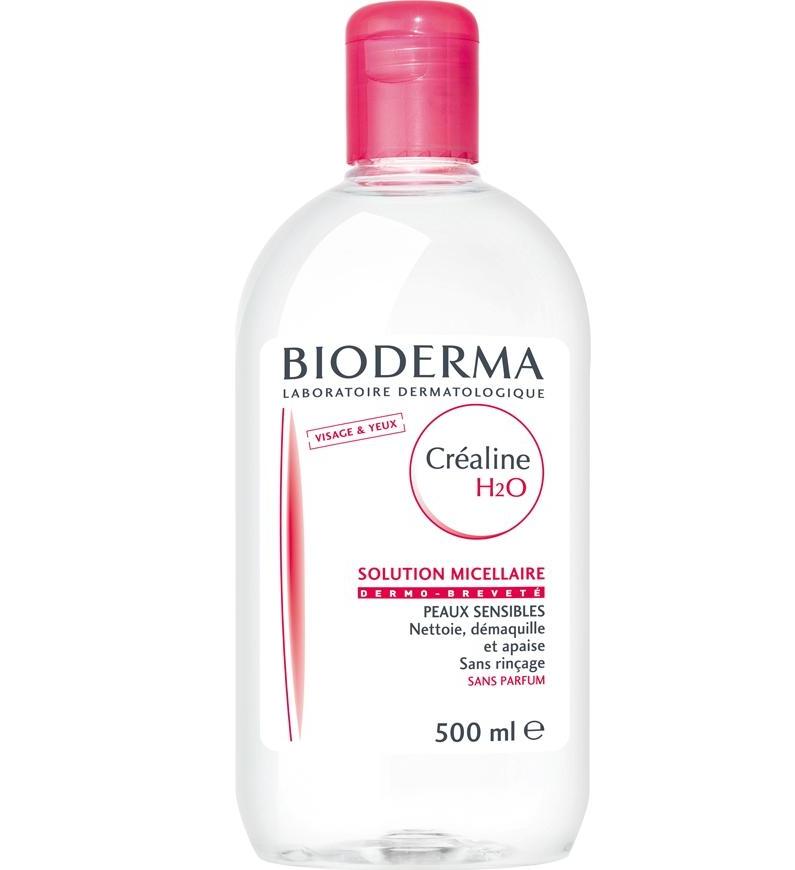 3. J'applique 4-5 gouttes d'
acide citrique d'Etat Pur
sur mon visage, en évitant soigneusement le contour des yeux. C'est bon pour l'éclat et lisser le grain de peau, ça pique un peu mais rien de méchant et je trouve que ma peau est vraiment plus lisse depuis que j'utilise ça. Cela fonctionne aussi pour uniformiser le teint. J'ai des petites taches hyperpigmentées sur le visage et ça les fait diminuer un peu quand j'en mets...
I apply 4-5 drops of citric acid by Etat Pur on my skin avoiding the eye area. The brand is available from France, the UK and Spain. This product is great to improve radiance and evening out the complexion. I have dark spots on my face and I find it helps to use this.
Attention : étape à ne faire que 3 fois par semaine max !
Warning: do this only 3 times a week max !
4. Ensuite j'utilise le
soin contour des yeux Weleda à la rose musquée
.
Then I use the Weleda Wild Rose Smoothing Eye Cream.
5. Enfin, j'applique la crème
Skin Ergetic crème de nuit anti-fatigue de Biotherm
, découverte dans la My Little box de janvier.
Finally, I apply the Skin Ergetic by Biotherm, which I discovered in the january My Little Box.
J'espère que ce post vous a plu et à vendredi pour un post sur la Joliebox d'avril !
I hope you liked this post and see you friday for a post about the april Joliebox !